Our Corporate Social Responsibility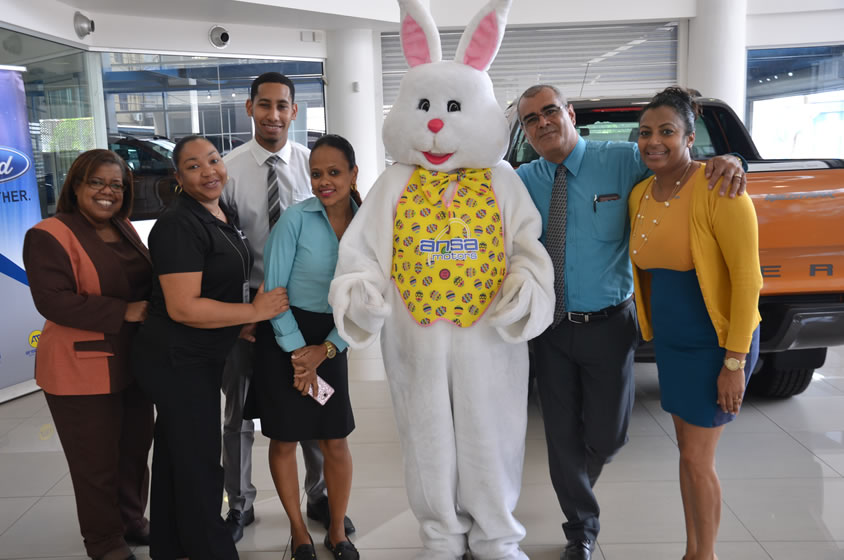 Stemming from an idea proposed by the Automotive Sector Head, Mr. Jerome Borde, ANSA Motors launched an initiative to affect real change in our neighbouring schools, and to engage our communities both online and off. As the process began during Easter, the team thought there was no better way to excite the students around our Port of Spain locations than with a life-sized bunny.
 Mr. Borde assigned each brand's General Manager to one of a few neighbouring schools to pay forward their corporate citizenship; Richmond Street Boys, Sacred Heart Boys, Sacred Heart Girls, and Trinity Junior. The Marketing Department contacted each of the schools and asked if the General Manager along with a big surprise could visit on Holy Thursday.
 In the meantime, the Facebook community was abuzz as the competition to name our newfound mascot continued on. After hundreds of entries, ANSA motors Executive Management Team landed on a winner, Tina Sagramsingh, as she dubbed their mascot "Throttle Bunny".
 The General Mangers together with a few other staff members and Throttle Bunny began visiting their designated schools during the lunchtime period sharing lots of cheer and small tokens for the children. Throttle Bunny was such a hit that the neighbouring nurseries requested a visit from the furry friend.
 A meeting was set then and there between the respective Principal and General Manager to get together to discuss how exactly the ANSA Motors company and Brand- Jaguar Land Rover, BMW/ MINI, Honda, Ford, Mitsubishi- can involve themselves to promote positive and sustainable change in our nation's youth.
 Throttle Bunny has not only become the mascot for the ANSA McAL Automotive Sector, but the representation of our corporate conscience.