The Range Rover Velar launch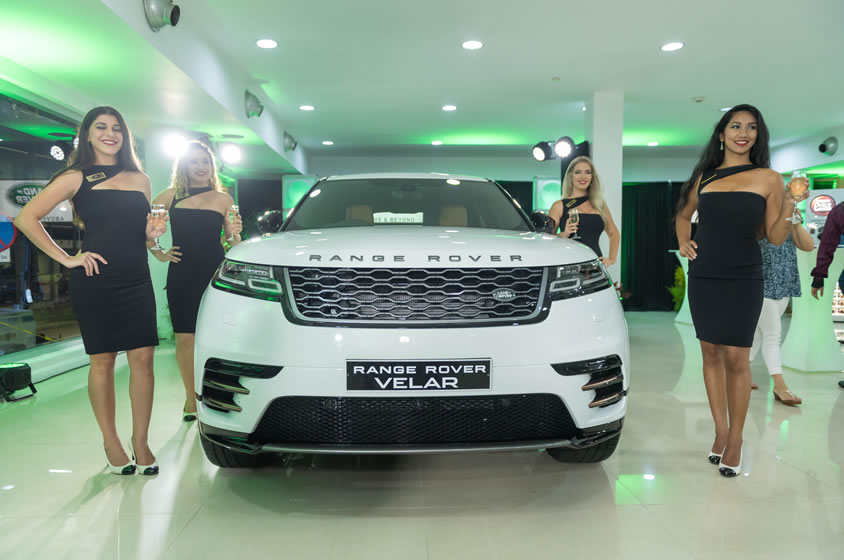 While there may be an economic downturn in Trinidad and Tobago, this has not quenched the thirst for luxury vehicles. Trafalgar Motors was honoured to launch Land Rover's latest addition to their Range Rover Family, neatly positioned between the Range Rover Evoque and Range Rover Sport, the new Velar is one of the nicest designs to be seen thus far.
On March 24th, 2018 Trafalgar Motors lit up the night with pyrotechnics as the Velar drove onto a rap with on-looking potential customers and vehicle enthusiasts alike at Trafalgar's Charles Street office in Port of Spain.
Those gathered for the local unveiling were informed of some of the Velar's many features, including a stylish and waterproof wrist-band that can remotely lock and unlock the vehicle, so drivers can leave their keys safely in their vehicle. The Velar's interior features the touch pro duo, a split screen touch screen, making it possible to control the navigation system in the upper screen, while playing media on the lower. Talk about dynamic.
The Velar does not stray from the details one expects from Range Rover models and has maintained its characteristic style, complete with a floating roof.
Mr Jerome Borde, Automotive Sector Head stated that "Despite the local luxury car market contracting by 45 per cent, Land Rover has recognized the need to remain and grow the brand, and they have lots of new products to release over the next three years, and certainly are becoming aggressive in their models and prices. We have an exciting time ahead with Land Rover despite our economic situation".